The Rabbi
Rabbi Howard Kosovske is currently serving as Sinai Temple's Interim Rabbi for two years beginning in July of 2016.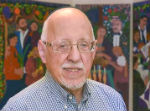 Rabbi Howard Kosovske's rabbinic experience is vast and diverse, spanning three continents (North America, Europe and Asia) and over 45 years. He began as a military chaplain in the US and Germany, and then held several pulpit positions in Massachusetts, Pennsylvania, South Carolina, and Hong Kong. More recently he has served as the interim Rabbi to congregations in Massachusetts, New Jersey, New Mexico, and Pennsylvania, and as a Rabbi/Scholar-in-residence in Dublin.
Rabbi Kosovske has a love of all flavors Judaism and he enjoys learning and experiencing it in a variety of settings. He speaks with knowledge and thoughtfulness about current issues through a Jewish lens, and enjoys teaching young people as well as adults in a model of "life-long learning".
Rabbi Kosovske makes his home in Salem, Massachusetts but is no stranger to our side of the state, having a daughter who is the Rabbi at Beit Ahava Northampton. When he is not in temple or in the classroom, Rabbi enjoys classical music and art, and is a frequent patron of concert halls and museums. He is equally at home in kitchen where he regularly bakes bread.